What POS Hardware Do I Really Need?
The business type often dictates what type of hardware you need, hardware can widely differentiate between a restaurant and a retail store for example. Because of this, many companies struggle to understand what equipment they actually need. (Here are additonal extras for you POS system)
Let's go over hardware that is required – and hardware that you can live without.
POS Hardware – The Requirements
Station
Your station is commonly a PC or a tablet-based system that runs your POS software. Depending on your POS system this could be a PC tower with a touch screen monitor, an "all-in-one" system that has many of your POS hardware components included in one package, (receipt printer, credit card swipe, etc.) or a mounted tablet. You will need one of these for every station that you wish to have.
There are many pros and cons between "all-in-one" devices and standalone systems like the PC tower and mounted tablets. With "all-in-one" devices, if a part breaks on your device and you must send it in for repairs or a warranty replacement, you are down a whole station until you receive a new one. With a standalone system, it may cost more and take more time to get your station set up since there are more devices and moving parts to get organized. In addition, ensure that your computer meets the minimum specifications for your POS software to ensure max efficiency.

Receipt Printer
Email and text receipts are gaining popularity, but paper receipts are still superior and provide customers with an accurate summary of their purchase. With this printer, you can also print employee hours, sales reports, and other relevant information. This is typically a thermal printer, which prints fast and quietly for maximum efficiency for you and the customer.
Credit Card Reader
EMV-compliant credit card readers, or card swipes with end-to-end encryption are critical for businesses to protect against fraud and potential breach of your data. Depending on your POS system, you could have a standard reader that works for multiple POS systems or a reader that is proprietary that works with your specific POS and merchant services provider. As mentioned before, your credit card reader could be integrated into your station, or it may be a standalone device. Keep in mind, to run loyalty or gift cards you may need a second independent credit card reader depending on your POS. Make sure you understand the Credit Card protections your POS has, and what hardware you will need.
Cash Drawer
While many businesses don't deal with as much cash as they used to, cash is still very prevalent, and all businesses must have the ability to accept cash. Cash drawers are often connected directly with your receipt printer, and the POS will directly use them as needed.
POS Hardware – Optional Choices
Barcode Scanner
Automates the checkout process for retail stores and are popular with certain restaurants. Barcodes, when scanned, often integrate with inventory management systems to automatically adjust stock. Barcode scanners are also becoming a favorite way to use loyalty programs.
Kitchen Printer(s)
Your kitchen printer receives orders from the POS to a restaurant's kitchen. Allows the kitchen staff to cook the food more accurately and efficiently. There are several types of kitchen printers that are available: Wired internet, wi-fi, and a printer directly plugged into the computer station. Depending on your restaurant setup and your internet's reliability all of these could work for your restaurant. Wi-fi in a busy restaurant is traditionally less reliable than wired internet or being connected directly into a station, be aware of your situation and ask your POS provider what type of printer may be best for you. Kitchen printers are generally "impact dot matrix" printers because the thermal paper used on most receipt printers can't handle the heat of the kitchen.
Tablets or Mobile Devices for Tableside Ordering
Mobile POS systems are continually becoming more popular, with 48% of people preferring mobile POS over traditional systems. Using a mobile POS provides flexibility for servers and allows them to take orders and send them electronically to the kitchen. These systems are essential to consider because servers will have no delay putting in orders to the kitchen, which in turn increases productivity and efficiency in your restaurant.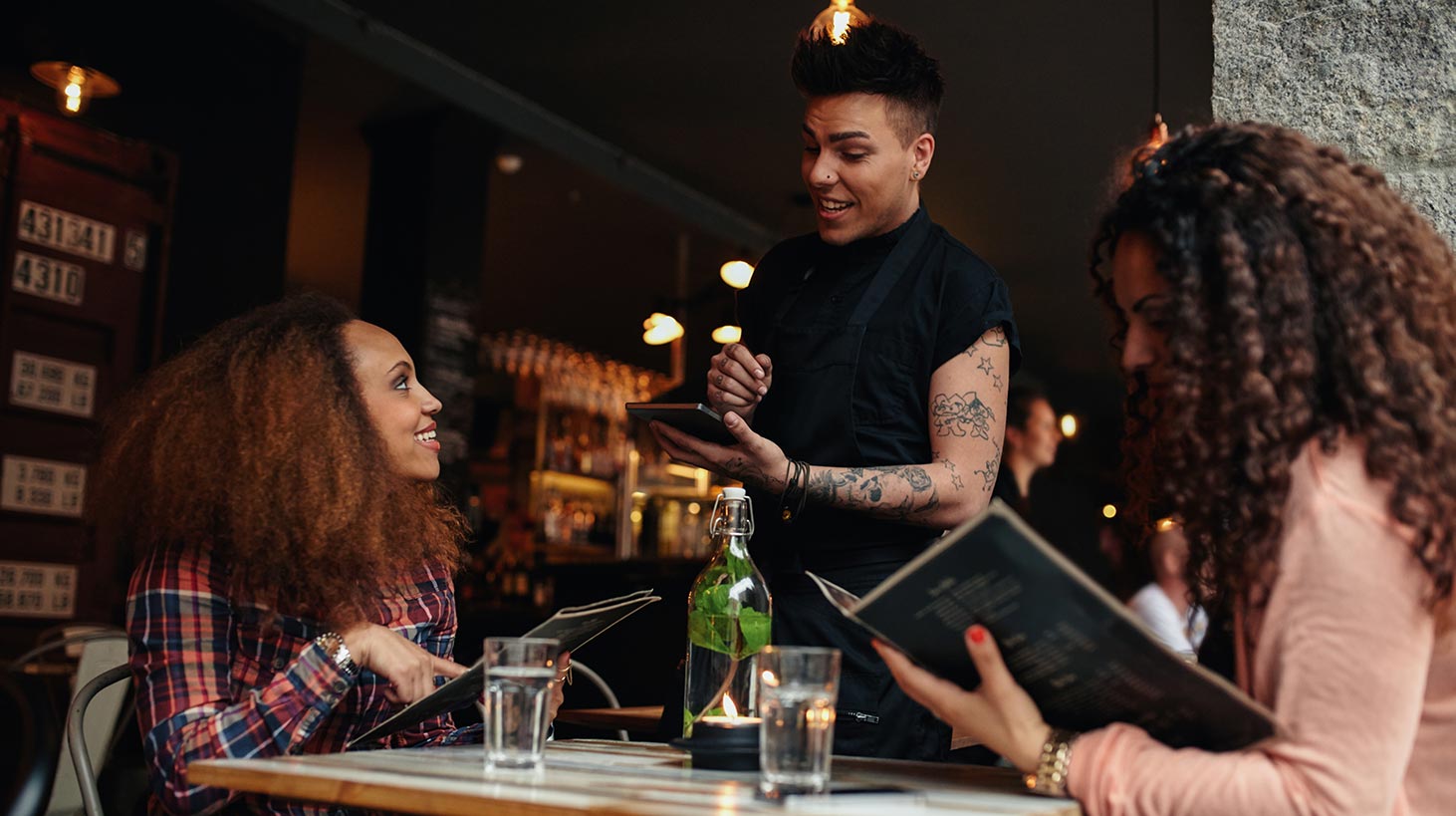 Scale(s)
Scales are often needed in retail settings when items are priced by weight and not by item. These may be a standalone system or integrated directly into your POS system.
Kitchen Display System
With a kitchen display system, you no longer need to use paper tickets in your kitchen. Paper can get wet, tear, or go missing. A kitchen monitor will allow your cooks to see all orders and items that they need to prepare instantly. This will let your kitchen to run smoothly and ensure that every item that you cook will be up to your restaurant's standards, and no orders will be missed.
Self-Service Kiosks
Self-service kiosks can help companies save on labor costs, in addition to customer wait times often being reduced. Often, these come as tableside tablets, or touch screen computer screens, where customers can order food or product and check-out on their own. In the restaurant industry, kiosks help increase average check size by as much as 30%, and many large chains are moving to kiosks for higher margins.
Digital Menu Displays
Digital menu displays give restaurants flexibility, they can add new menu items, specials, and promotions very quickly and easily. Digital displays catch the eye much more naturally than standard boards and can make it much easier to order off your menu.
---
Here are some additional features between Cloud POS systems and Traditional POS systems.